The Tungurahua volcano has been active since 1999.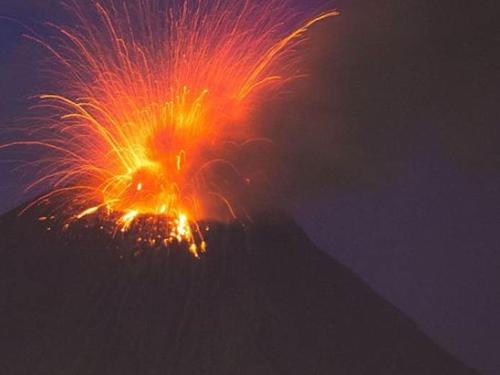 The Geophysical Institute of Ecuador (IGEPN) is in charge of monitoring the volcanic activity of the country, in collaboration with the American magazine National Geographic , famous for having highlighted "Mama Tungurahua" in a famous photograph in 2014 (see below).

Fill the sky with its show and fire and lava magic, allowing our visitors to enjoy an impressive natural game of lights and colors unique in the world.

All this wonder can contemplate from safe viewpoints in the city of Baños that we propose when you stay at Samari Spa Resort . These viewpoints are located in the security zone on the eastern flank of the volcano.

Baños and Samari Spa Resort have not been affected with any type of material in the 16 eruptions in the last 400 years . For example, the Basilica of the Virgin of Agua Santa, built in 1944, and the Municipality of Baños, are made of volcanic rock. Also in Samari Spa Resort , certain parts of the property are made of volcanic rock, such as in our gourmet restaurant "La Casa de Piedra" and the bar.

In case the Tungurahua erupts it would be the second time this year. In March the volcano erupted, emanating steam and ash in a controlled manner, which reached a height of 2 kilometers.

Adventure, rest, fun, and a volcano erupting !!
Welcome to the most complete destination in Ecuador to enjoy the pleasures of life!

Credit: Juan Cevallos AFP / Getty Images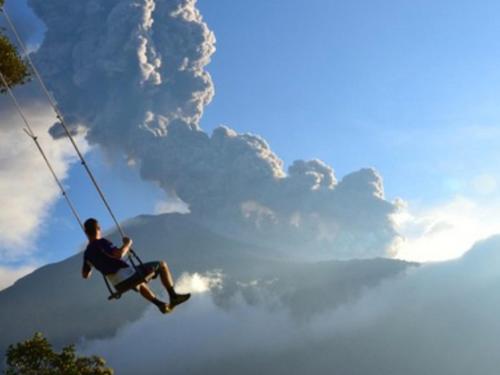 Credit: Sean Hacker Teper for the magazine
American National Geographic .

The photographer Sean Hacker Teper won in 2014 an award from the American magazine National Geographic for having taken that graphic: "The Swing of the End of the World".